After School - Learning Therapy Program (LTP)
LTP is a program for students who have dyslexia and/or related learning differences utilizing the Orton-Gillingham approach. Students will be working with a reading specialist 4 days a week. We offer options to work with a therapist individually or in small groups based on congruent reading levels. If all groups are full you may be placed on a waiting list upon receipt of a deposit.
This program is for students who are NOT enrolled in our full day private school.
New groups are forming May 2023, to start therapy on Aug 22nd, 2023 Mon-Thurs.
4:00pm-4:50pm
4:30pm-5:20pm
​
5:00pm-5:50pm
5:30pm-6:20pm
6:00pm-6:50pm
Tuition rates are reflected below. If you have an interest please
Click on the link above called "Enrollment Application".
Completing this form will allow School of Lexia reach out to you for assessment.
2023-2024 After School LTP Tuition (3) Payment Plans
M-Th (except specified holidays)

​All payment plans include a one time deposit of $1000 plus designated payments as shown below. The commitment is for the duration of the times reflected above.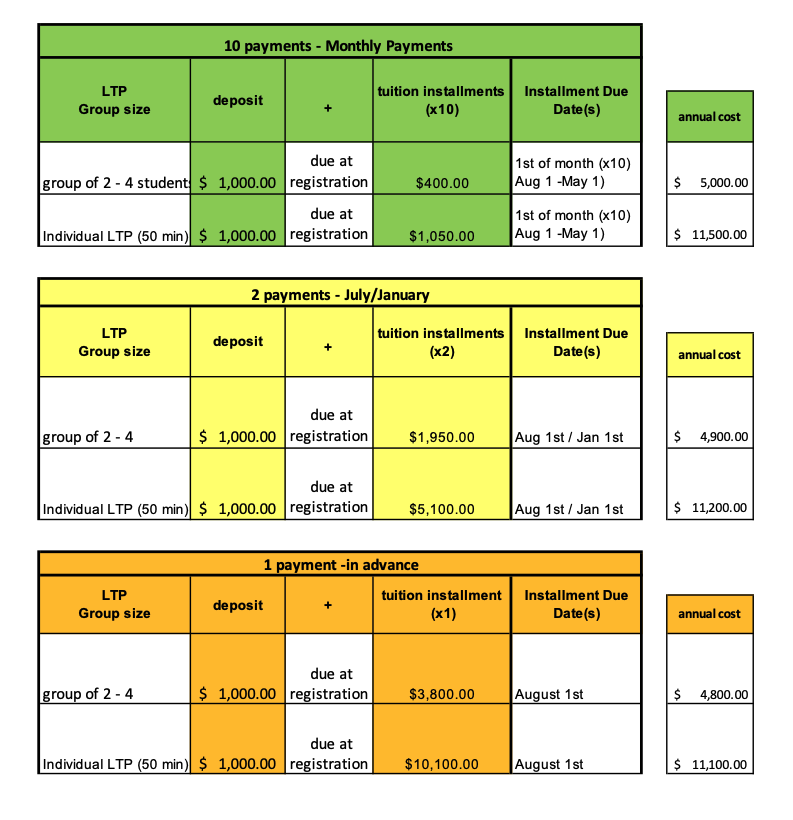 Payment Policy (Averaged Monthly Billing)
Payments are due on the first of each month. Agreement for LTP is based on a commitment to the full school year. If a group starts after August the program may be pro-rated based on the portion of they year that has been missed between August 2023 and May 2024.
Group Placement
Time slots are subject to Therapist availability and a compatible group opening. If an applicant is flexible in group hour then a placement can be accommodated more quickly is some cases. If a group rate is requested we will work facilitate a group as quickly as possible.
Withdrawal
Exiting the program prior to May will still require payment in full or completion of the scheduled payment plan unless the student is transferring to our full day private school to better accommodate the student's academic needs. The 10 month commitment allows us to keep all LTP students at the same rate without fear of a price increase during the year. The duration of the agreement is essential to see long term progress from the academic language therapy. To successfully complete all 7 books of Take Flight it typically takes about 2 years.
​
Re-enrollment for Year 2
An email will be sent to current students with a link for re-enrollment around the beginning of May.
Group times will be communicated late July or early August.
Summer
LTP groups do not convene in the months of June or July. We do offer summer classes in place of LTP to close summer learning gaps.